GEFF2022: The Great Green Wall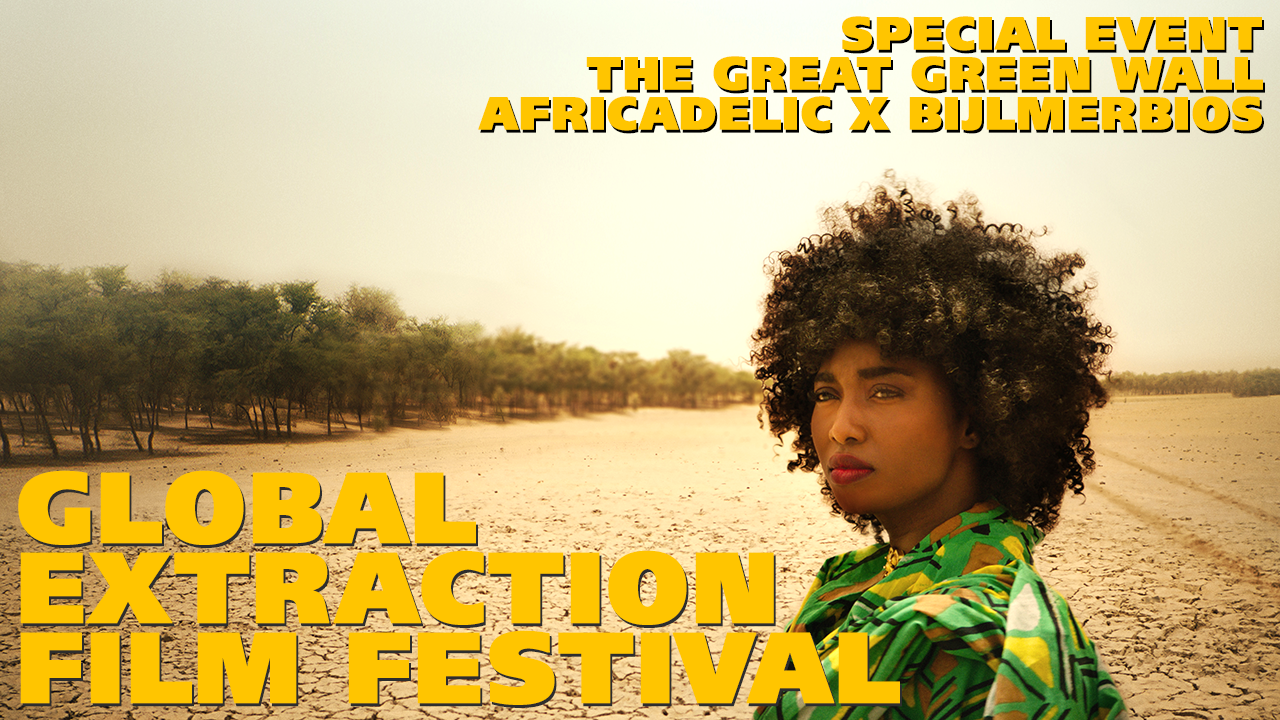 On Saturday, October 8 and Thursday October 27, both days at 7.45pm (CET), GEFF2022, in collaboration with Africadelic, will be showing The Great Green Wall in Bijlmerbios in Amsterdam. Come and join us for the screening of this award-winning documentary featuring Inna Modja on her epic journey along Africa's ambitious Great Green Wall project, intended to fight climate change and support communities across the Sahel region.
Africadelic2022 x GEFF2022 x Bijlmerbios: The Great Green Wall
Date: Saturday, October 8 and Thursday October 27, 2022
Time: 7.45pm
Venue: Bijlmerbios (Amsterdam)
Title: The Great Green Wall
Director: Jared P. Scott
Country: UK and Senegal
Year: 2019
Length: 90 min
Language: English, French, Bambara, Tigrigna, Hausa
Subtitles: Dutch
Tickets: https://bit.ly/the-great-green-wall-bijlmerbios
Synopsis The Great Green Wall
In this documentary, Malian musician and activist Inna Modja takes us on an epic journey along Africa's Great Green Wall, an ambitious vision to grow an 8,000km 'wall' of trees stretching across the entire width of the continent to restore land and provide a future for millions of people. Traversing Senegal, Mali, Nigeria, Niger and Ethiopia, Modja follows the burgeoning Great Green Wall through Africa's Sahel region – one of the most vulnerable places on earth (temperatures are rising 1.5 times faster than the global average) – laying bare the acute consequences of severe land degradation and accelerating climate change the Wall aims to counteract: increasing desertification, drought, resource scarcity, conflict and migration.
A Buena Vista Social Club meets Years of Living Dangerously, frontline characters give voice to a continent at a crossroads – stories Modja echoes on a sublime album. With the support of insightful musical collaborators (Didier Awadi, Songhoy Blues, Waje, and Betty G), Modja endeavors to amplify the promise of the Great Green Wall in helping to address the urgency of the real-time threats facing her beleaguered homeland. Although the film does the groundwork for a climate change cautionary tale, 𝗧𝗵𝗲 𝗚𝗿𝗲𝗮𝘁 𝗚𝗿𝗲𝗲𝗻 𝗪𝗮𝗹𝗹 provides a refreshing story of resilience, optimism and collection action. If completed, the Wall will be the largest living structure on earth, three times the size of the Great Barrier Reef – a new world wonder.
As Modja passionately pursues an African Dream for a generation seeking to control their own destiny, she reminds us of the enormity of the task ahead and that time is not on our side. The resulting journey of hope, hardship and perseverance reveals our shared human condition, reflecting a deeper moral and existential question we all must confront: "Will we take action before it's too late?"
About Inna Modja
Inna Modja is a Malian actress, singer and environmental activist who appeared in, and wrote the music for, the UNCCD's 2019 documentary The Great Green Wall. The acclaimed film followed her extraordinary journey through Senegal, Mali, Nigeria, Niger and Ethiopia, and was a collaboration with Oscar-nominated producer Fernando Meirelles. With a strong following in Francophone West Africa and France, Inna is a leader among the young people committed to changing the narrative of the Sahel. Her music, energy, passion, and humanitarian works resonate with her audiences worldwide. 'The Great Green Wall is not just about planting trees. It has to become a movement. From the whole continent… from the whole world.'
About Africadelic
Africadelic is an organization that is committed to promoting (awareness about) cultural creativity and diversity in and out of Africa and the African diaspora. The Africadelic Festival is an annual festival on and around International Africa Day on 25 May. Through concerts, films and talks, the festival offers a reflection on the state of Africa and a celebration of the cultural creativity of the continent and the diaspora. The Great Green Wall was part of Africadelic2022 in May, and now they again screen this important documentary in collaboration with GEFF2022 and Bijlmerbios.
GEFF 2022 PROGRAM 1 * GLOBAL PERSPECTIVES
GEFF 2022 PROGRAM 2 * AFRICA IN FOCUS
GEFF 2022 PROGRAM 3 * URGENT SHORTS
GEFF 2022 PROGRAM 4 * ANIMAL-HUMAN RELATIONS
GEFF 2022 PROGRAM 5 * PRESENTED BY WATERBEAR
GEFF 2022 PROGRAM 6 * PRESENTED BY DW DOCUMENTARY
GEFF 2022 SPECIAL EVENTS