GEFF2022 Program 2: Africa in Focus (under construction)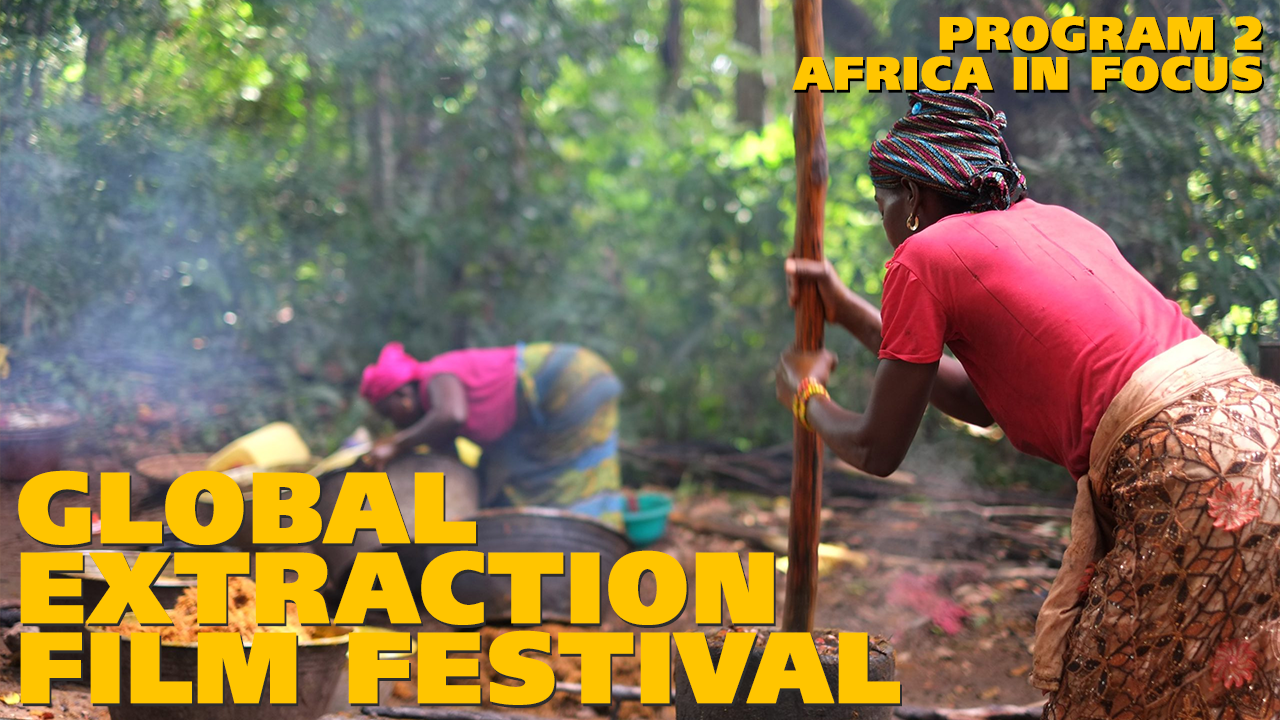 Streaming Online | October 26-30, 2022 | #GEFF2022 | #GlobalExtractionAction
GEFF2022 PROGRAM 2 * AFRICA IN FOCUS
Curated by Emiel Martens (together with Josh McDonald, Maru Alurralde, Rebecca Hussey, and Elsie Vermeer)
The Africa in Focus Program offers 150+ documentaries and urgent shorts about all 54 countries on the African continent. These films, a combination of documentaries, news programming, YouTube content, and series, are listed first with regional films, then alphabetically by country, starting with Algeria and ending with Zimbabwe. Not all African countries are equally represented. For some countries we could not find many available relevant films and for other countries we were not always able to get permission to stream films that we requested. Nonetheless, the Africa in Focus Program provides extensive, rich and varied content about the impacts of extraction on a vast region, as well as the many communities who are defending their land, waters, cultures and the future of the planet.
The Africa in Focus Program brings together various films that are already publicly available, but we also have some films that are festival exclusives, meaning that these films are only (freely) available during the festival (October 26-30). Below, the festival exclusives are listed first, in alphabetical order, followed by the other selected films per country. In addition, the festival exclusives, 7 in total, will also feature in the country list, where they appear with their poster showcased.
GEFF 2022 PROGRAM 1 * GLOBAL PERSPECTIVES
GEFF 2022 PROGRAM 2 * AFRICA IN FOCUS
GEFF 2022 PROGRAM 3 * URGENT SHORTS
GEFF 2022 PROGRAM 4 * ANIMAL-HUMAN RELATIONS
GEFF 2022 PROGRAM 5 * PRESENTED BY WATERBEAR
GEFF 2022 PROGRAM 6 * PRESENTED BY DW DOCUMENTARY
GEFF 2022 SPECIAL EVENTS
Regional | Algeria | Angola | Benin | Botswana | Burkina Faso | Burundi | Cabo Verde | Cameroon | Central African Republic | Chad | Comoros | Djibouti | DR Congo | Egypt | Equatorial Guinea | Eritrea | Eswatini (formerly Swaziland) | Ethiopia | Gabon | Gambia | Ghana | Guinea | Guinea-Bissau | Ivory Coast | Kenya | Lesotho | Liberia | Libya | Madagascar | Malawia| Mali | Mauritania | Mauritius | Marocco | Mozambique | Namibia | Niger | Nigeria | Rwanda | Sao Tome and Principe | Senegal | Seychelles | Sierra Leone | Somaliland (Somalia) | South Africa | South Sudan | Sudan | Tanzania | Togo | Tunisia | Uganda | Zambia | Zimbabwe
CONTINENTAL/REGIONAL
Atomic Africa: Clean Energy's Dirty Secrets (Marcel Kolvenback, 2013, 53 min)
What is the hidden agenda of the nuclear industry in Africa? We reveal the alarming consequences for people and the environment. In collusion with corrupt governments and questionable business partners energy companies source uranium for their domestic markets. And – faced with an apparent "sales problem" of nuclear technology in the Western world – they also lobby African governments to buy nuclear power plants. Otherwise well informed high-level decision-makers in Africa seem oblivious to the risks of nuclear power. They happily welcome the prospect of a seemingly endless, cheap, clean energy source. And their national pride is fuelled by the fact that the radioactive raw material for the new reactors doesn't need to be imported from other countries – it's hidden in the African soil. We reveal the dilemma of the African continent: It desperately needs cheap and reliable electric power for its development – but instead of being able to use its own resources, Africa is forced to sell off its riches to corrupt multinational enterprises. The sobering conclusion: In the future, African governments will need to give up their unrealistic nuclear ambitions and develop appropriate technologies to free themselves from their technological dependence on Western enterprises. / An investigation into the nuclear industry and its actions in Africa, the film examines Africa's power needs and the consequences of using nuclear energy. Africa's development is being held back by its poor infrastructure and undersize power plants. Countries like Uganda can produce only a quarter of the energy needed, leading to daily power cuts with a disastrous impact on the economy. Companies like French nuclear giant Areva lobby aggressively for more power plants in Africa, but how safe are these new reactors? New nuclear power plants in Africa also mean more uranium mining, contaminating the environment and endangering the local population.
Stealing Africa (Christoffer Guldbrandsen, 2012, 58 min)
Rüschlikon is a village in Switzerland with a very low tax rate and very wealthy residents. But it receives more tax revenue than it can use. This is largely thanks to one resident – Ivan Glasenberg, CEO of Glencore, whose copper mines in Zambia are not generating a large bounty tax revenue for the Zambians. Zambia has the 3rd largest copper reserves in the world, but 60% of the population live on less than $1 a day and 80% are unemployed. Based on original research into public documents, STEALING AFRICA is an investigative story of global trade and political corruption where money and natural resources only flow one way, and in the meantime poverty becomes harder to escape.
Africa: States of Independence: The Scramble for Africa (Al Jazeera, 2010, 45 min)
Seventeen African nations gained their independence in 1960, but the dreams of the independence era were short-lived. Africa states of independence tells the story of some of those countries – stories of mass exploitation, of the ecstasy of independence and of how – with liberation – a new, covert scramble for resources was born.
ALGERIA
Climate Change in the Algerian Steppe (New Frame, 2020, 7 min)
This first part of a three-part series on the impact of climate change just north of the Sahara Desert traces the lives of the true nomads in Algeria. Some Algerians continue the tradition of their ancestors, who were ambulant herders. For their animals to graze, nomads need significant amounts of water from lakes or wadis. On the steppes of Djelfa, water scarcity is one of many reasons nomadic populations are slowly evolving to more sedentary lifestyles.
ZIMBABWE
Fresh Farm: Farmer and Businesswoman in Zimbabwe (Rumbi Katedza, Al Jazeera, 2022, 11 min)
Nomaliso Musasiwa does not believe in waiting for the government to fix problems, so she is tackling Zimbabwe's food challenges directly. She runs a fresh food tech company, connecting small farmers to online clients – from locals looking for fresh, affordable food, to diaspora Zimbabweans who want to support relatives back home. Fresh Farm by Rumbi Katedza explores this creative commercial response to Zimbabwe's food insecurity.