GEFF2022 Program 6: Presented by DW Documentary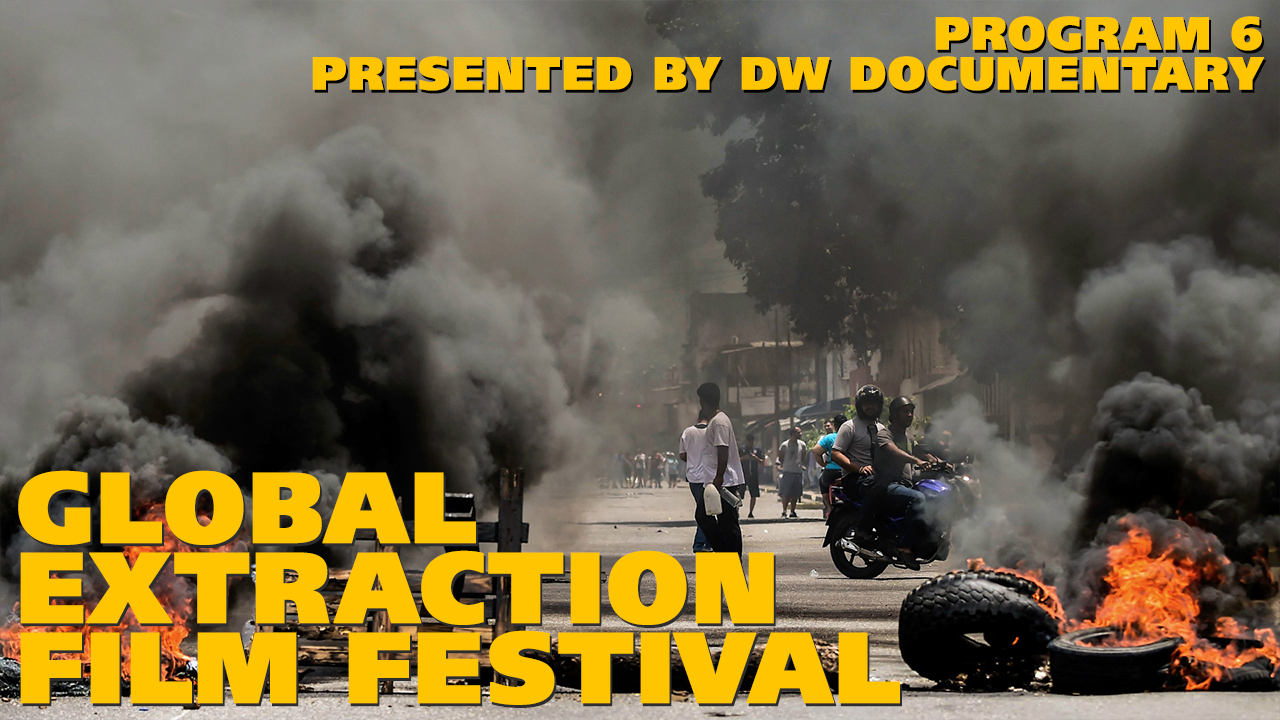 Streaming Online | October 26-30, 2022 | #GEFF2022| #GlobalExtractionAction
GEFF2022 PROGRAM 6 * PRESENTED BY DW DOCUMENTARY
Curated by Emiel Martens
The Presented by DW Documentary Program offers 18 publicly available, feature-length documentaries made and broadcasted by DW Documentary, the documentary platform of the German multilingual TV news network, Deutsche Welle (DW). The originally produced DW documentaries often focus on global issues such as extractive industries, unsustainable development, food insecurity, human rights and climate change – issues GEFF seeks to reveal and discuss at their festival. The curated GEFF program of DW content consists of recent feature documentaries on topics such as The Deceptive Promise of Free Trade, The Climate Exodus, The Future of Travel, The Rise of Big Tech, and Living with Climate Change.
GEFF 2022 PROGRAM 1 * GLOBAL PERSPECTIVES
GEFF 2022 PROGRAM 2 * AFRICA IN FOCUS
GEFF 2022 PROGRAM 3 * URGENT SHORTS
GEFF 2022 PROGRAM 4 * ANIMAL-HUMAN RELATIONS
GEFF 2022 PROGRAM 5 * PRESENTED BY WATERBEAR
GEFF 2022 SPECIAL EVENTS
A Game of No Rules: The Deceptive Promise of Free Trade (Dir. Tilman Achtnich, 2018, 43 min, also part of the Africa in Focus Program!)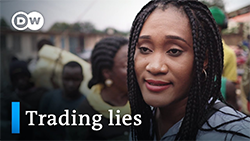 Global trade is a hot topic of the G7 summit in Canada. Is free trade truly free – and fair? What roles do US President Trump, economic powerhouse China, and the EU play in global trade? When it comes to global trade, it would seem that trickery, threats and deception are the order of the day – yet all this takes place largely beyond the reach of the public eye. Donald Trump has made 'America First' his agenda and rallying cry. Along with aiming sharp criticism at global export champion Germany, Trump has also introduced punitive tariffs and warned of further measures. Will this fresh wave of protectionism lead to economic isolationism and threaten global free trade? And what about those for whom free trade's promise of prosperity increasingly rings hollow? Around the world, many people have come to regard themselves as the losers of globalization. If the true winners of free trade and globalization are not ordinary citizens, has the time come to revise the liberal orthodoxy of free trade? This documentary visits Germany, Switzerland, the United States and Cameroon to explore these issues by way of some everyday examples, including the trade in onions, floor tiles, and bicycles.
Can the Citarum Still Be Saved?: The World's Most Polluted River (Dir. Martin Boudot, 2022, 43 min)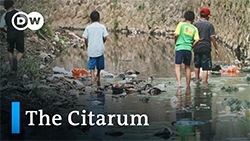 The Citarum River in Indonesia is the world's most polluted river. One of the main polluters is the fashion industry: 500 textile factories throw their wastewater directly into the river. The filmmakers teamed up with international scientists to investigate the causes and consequences of this pollution. With the help of concerned citizens, the 'Green Warriors' team analyzed water samples, rice, children's hair, etc. and discovered that toxic chemicals are endangering the lives of the 14 million Indonesians who use the Citarum water. What was once considered paradise is now a brown sludge of human waste and dangerous substances like nonylphenol, antimony and tributylphosphate. These findings prompted the Indonesian government to change its wastewater regulations. Recently, President Joko Widodo announced a new plan to clean up the Citarum. The fashion brands questioned in this documentary promised to better monitor their Indonesian suppliers.
Charcoal: An Environmental Disaste (Dir. DW Documentary, 2019, 43 min, also part of the Africa in Focus Program!)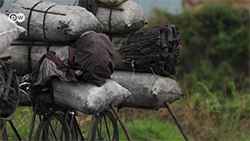 Huge areas of tropical rainforest are being destroyed to make charcoal for barbecues. The global deforestation is leading to growing problems. Nigeria and the DRC Congo – two of Europe's main charcoal suppliers – are also affected. Every year, Europeans use approximately 800,000 tons of charcoal for barbecuing. Seventy percent of the charcoal comes from outside the EU, and the bags often contain remnants of tropical woods. Officially, tropical woods are subject to strict import conditions. But when it comes to wood charcoal, these do not apply. Worldwide, 2.7 billion people cook and heat with wood or charcoal. The related emission of greenhouse gases is enormous. 55 percent of global wood is used as fuel per year, and much of it is cut illegally in Africa's bush and tropical forests. Nigeria produces most of its charcoal for export. Especially during dry periods, local Nigerian farmers use coal production as a lifeline to make money and feed their families. At the same time, charcoal mills travel the countryside in family groups, charring all the trees they can cut down. The consequences are hair-raising. Nigeria lost 36 percent of its forests between 1990 and 2005. At present, twelve percent of the country is still covered with forest – but charcoal production continues to rise, eating up 350,000 hectares of fertile land here every year. According to the UN, charcoal production is one of the main causes of deforestation in Africa, which in turn is closely linked to massive deterioration in soil quality and a growing risk of crop failure. But African legislation has been slow to respond to the problem. The coal business is highly lucrative business, and rakes in some 7.4 billion US Dollars a year. According to recent estimates, the current illegal trade in charcoal is worth almost three times as much as the trade in illegal drugs.
Drought and Floods: The Climate Exodus (2020, 54 min)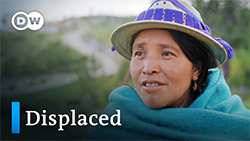 More people around the world are fleeing from climate change than from war. If human-induced climate change continues at the current rate, the World Bank warns that by 2050 there could be as many as 180 million climate refugees. The number of climate refugees is rising – and yet the status of 'climate refugee' has yet to be officially recognized by national or international law. One factor is illustrative of the devastating impact of climate change on countries and communities: water. Recent years have seen an increasing number of floods and droughts. A third of the global population lives near the coast, and an estimated 700 million people are facing rising sea levels. In the Philippines more than 85 percent of the population say they are feeling the impact of climate change in the rising frequency of flooding and violent typhoons. Farmers in the highlands of Guatemala, on the other hand, are suffering extreme drought. Both water scarcity and flooding are sparking mass migration. In response, rich countries such as the US are tightening their immigration policies. Yet lifestyles within industrialized nations are a major cause of climate change. Seven countries — including the US, China, Russia, India and Germany — are responsible for over 60 percent of global CO2 emissions. The US is the country with the highest emissions, yet it also has the most climate change deniers – notably President Donald Trump. Trump withdrew from the Paris climate agreement. He is also an advocate of fossil fuels and wants to build a wall to keep out migrants. Meanwhile, climate activist Greta Thunberg is fighting for change with her 'Fridays for Future' movement, and many others around the world are protesting in hopes of mitigating the impending climate catastrophe. Nonetheless, most people in affluent countries are unwilling to change their lifestyles. They are the ones who have a choice. For the countless thousands of climate refugees who are fleeing their homes, it is their very survival that is at stake. Every two seconds, a person is forced to flee their home. Today, more than 70 million people have been displaced worldwide. The DW documentary series 'Displaced' sheds light on the causes of this crisis and traces how wealthy industrialized countries are contributing to the exodus from the Global South.
Fast Fashion: The Shady World of Cheap Clothing (2022, 43 min)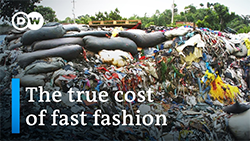 Fast fashion has radically transformed the textile industry. These days, 56 million tons of clothing are sold every year. But cheap garments come at a high price: A precarious existence for workers and a catastrophic environmental impact. The clothing industry is currently deluging the planet with garments. With 100 billion items produced every year, that's more than ever before. International companies are locked in an ongoing race to create new styles and win higher profits. And this gigantic expansion is set to continue: The sector is forecast to grow by 60 per cent by 2030. On the one hand, fast fashion means affordable clothes for all. Zara is known as the original fast fashion brand. The Spanish clothing giant creates 65,000 new styles every year. Shopping for clothes has become a veritable leisure activity stoked by social media: half of all Instagram posts are related to fashion and beauty. This is how market leaders in fast fashion influence their customers' buying behavior, backed by relevant neuromarketing specialists. Fast fashion profits from e-commerce. No more trying on clothes in the store, the customer orders online and has the garment delivered – and if they don't like it, they just send it back. Throwaway clothes and throwaway work: carried out by an army of couriers within the precarious gig economy. The textile industry is the sector with the world's second-highest environmental price tag. Fast fashion manufacturers' favorite material – viscose made from wood fibers – is marketed as a climate-friendly alternative. But producing this fabric uses a whole range of chemicals. This leads to serious health issues, not only for those working in the factories, but also for people living close by, for example in the Indian state of Madhya Pradesh. Every year in Europe, four million tons of clothing ends up in the trash. Less than one per cent of this is recycled. The fashion industry likes to parade its sustainability credentials, but the reality is quite the opposite.
Floods and Drought in Nepal: The Cost of Climate Change (2022, 52 min)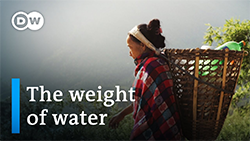 This film tells three stories of people suffering from the dramatic consequences of climate change. Their Nepalese communities are already being affected by floods and drought. Their suffering is a direct result of human-made climate change. Kamala Devi Pathak lives in rural Nepal, where for 20 years she has struggled with health problems due to water shortages. Her story shows the effects of water shortages on the health and future prospects of women. The second story follows the Pipli Youth Club, a sports club in a small Nepalese town. The sports field that has been instrumental in encouraging young athletes and fostering a sense of community is now threatened by repeated flooding. The Balami family lives in a picturesque village among green hills. But the beautiful surroundings have been hit by flash floods caused by climate change, with tragic consequences. These interwoven narratives underscore the price many Nepalese people are paying as a result of the climate crisis, caused in large part by wealthy industrialized nations.
The Future of Travel: Is Sustainable Possible? (Dir. Antje Christ, 2022, 43 min)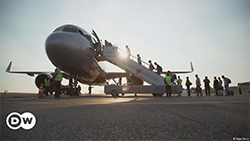 Exotic destinations, or staycations? As we make choices like these, we ask ourselves: Will we ever be able to fly without feeling guilty again? This film examines the tourism business today, and asks how the industry envisages the future. The pandemic brought the tourist industry to a standstill. But it also highlighted something we have long suspected: Namely, too much travel is bad for the environment. Not only that, but tourism transforms entire regions – not always for the better. It profoundly impacts communities and often brings benefits for only a very few. But our wanderlust remains. So, do travelers have to decide between the two extremes: exotic destinations (and high carbon footprints) or holidays at home? Given the climate emergency, can we fly without feeling guilty? How environmentally damaging are cruises? And what does it mean to have a sustainable holiday? This documentary examines an industry that had gotten ahead of itself, even before it was hit by the pandemic. We hear from mayors, tourism managers, a climate expert, an internet activist and a sociologist. The film travels to the European tourist hotspots of Barcelona, Venice and Dubrovnik. The tiny island of Palau in the Pacific Ocean demonstrates how sustainable travel can be sensibly organized, and a Parisian start-up develops a concept for virtual travel experiences.
The Green Revolution: Biofuel Instead of Coal and Oil? (2022, 43 min)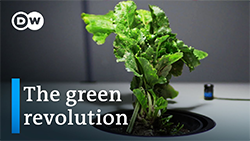 Can our petroleum-based market economy make the switch to renewable resources? According to scientists, politicians and industrial leaders, a "biobased economy" is a sustainable alternative. What lies behind this optimism? The biobased economy promises to help solve some of the world's biggest problems, including climate change, species extinction, pesticide residues and depleted soil. It foresees plants, fungi and insects replacing environmentally unfriendly coal and petroleum as raw materials, and microorganisms being used to produce chemicals. But even these renewable resources require a production process, and that harbors new potential dangers. These include land appropriation, the destruction of already dwindling natural ecosystems, and the exploitation of nature for profit to an ever-greater extent. This documentary examines the economic cycle as a whole, from the production of biomass to processing and finished products.
Lead in the Blood: The Fatal Consequences of South America's Commodities Boom (2020, 42 min)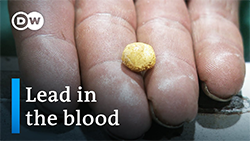 Huge quantities of raw materials are needed for mobile phones, copper pipes or wind turbines. Things that we Europeans naturally use are produced in South America under the harshest conditions. It's a filthy business. Latin American politicians are still relying on exports of raw materials to fuel unchecked economic growth – policies that go back more than 400 years to colonial times. The price is paid by the very same people who are affected by the consequences. The Europeans who benefit from the raw materials from South America are partly to blame. Cerro de Pasco in Peru is considered one of the dirtiest cities in the world because of its proximity to Swiss company Glencore's gigantic open-cast mine, which extracts zinc, silver and lead for the world market. Anyone living in Cerro de Pasco absorbs heavy metals via tap water. The levels it contains are well above the World Health Organization's threshold values. La Rinconada, what was once a small village 5,000 meters up in the Andes, has been gripped by gold fever for more than ten years and its population has exploded to more than 50,000 in that time. Gold from there is usually flown to Switzerland by courier. At the same time, La Rinconada itself has degenerated into a vast garbage dump, with rubbish piled up for miles at the entry to the town. The greed for raw materials is growing and growing – and recently triggered a disaster in Brazil. At the Brumadinho iron ore mine in January 2019, a retention basin burst and buried more than 250 people in toxic sludge. Previously, Germany's TÜV technical aid organization had classified the reservoir as safe. An earlier, similar accident didn't result in tougher laws and the mine operators did not even pay the fines imposed on them by the courts. The new president of Brazil, Jair Bolsonaro, also continues to focus on deregulation. Before the disaster, he even wanted to leave the safety controls to the mine operators themselves. The unregulated mining of raw materials is rapidly spreading across South America, even into what were largely undeveloped regions. Indigenous populations are putting up a fight – and often paying with their lives.
Red Gold – Mozambique's Rubies: A Blessing or a Curse? (Dir. Adrian Kriesch, 2022, 13 min)
Rubies are increasingly prized on the international gemstone market. The world's largest ruby mine is in northern Mozambique, where thousands of people are fleeing extremist militias. Can the lucrative business improve the lives of the people there? The mine's executives have a clear-cut position: They say they pay the taxes they owe, and Mozambique's government should use the money to build schools in the region, ensure security and fight poverty. They say the mine alone can't provide a livelihood to the entire region. Meanwhile, some residents regularly attempt to enter and mine rubies themselves. In the past, there have been reports of violent confrontations with the mine's security personnel. Are the rubies a blessing or a curse?
Oil and Ruin: The Venezuelan Exodus (2020, 53 min)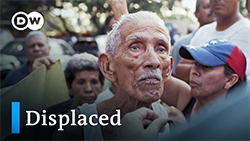 Venezuela is experiencing an unprecedented humanitarian crisis. Hunger is widespread and there is a severe shortage of medicines. The UN estimates that more than four million people have now fled what was once South America's richest nation. Venezuela is in the grips of what is now the world's second largest refugee crisis after Syria. But unlike Syria, Venezuela is not mired in civil war, and the country is sitting on the world's largest proven oil reserves. How could such a rich nation be driven into ruin? Where has the country's wealth gone, and why are its people starving? Corruption and mismanagement are driving displacement worldwide. The majority of the world's refugees and migrants are fleeing from countries in the top 10 of Transparency International's Corruption Perception Index – places like Afghanistan, Syria, South Sudan and Somalia. Venezuela was once one of the world's wealthiest countries and a showcase of democracy. The country enjoys an abundance of natural resources, including oil, gold, diamonds and coltan. But rather than invest in its people and economy, this wealth has been squandered. Today Venezuela is mired in corruption, and deindustrialization, debt, political conflict, authoritarianism and poverty are the order of the day. The billions in profits generated by the oil business during the boom years between 2003 and 2014 have largely ended up in private pockets. And once oil prices collapsed in 2014, Venezuela was plunged into economic crisis. Nicolás Maduro, who rose to the presidency after Hugo Chávez died in 2013, has installed loyal military officers in key economic positions. Venezuela is now little more than a state-run criminal enterprise. At the same time, the country has become a pawn in a geopolitical contest over power and natural resources, with the US, Russia and China all looking to assert their own interests. Every two seconds, a person is forced to flee their home. Today, more than 70 million people have been displaced worldwide. The DW documentary series 'Displaced' sheds light on the causes of this crisis and traces how wealthy industrialized countries are contributing to the exodus from the Global South.
Opaque Worlds: The Rise of Big Tech (2022, 43 min)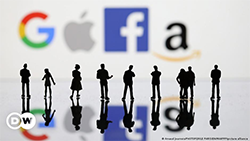 Mega-corporations like Amazon and Facebook are becoming more powerful. And their growth shows no signs of slowing down. They are in the public eye — but are they also above the law? The pandemic has only made the "big four" — Apple, Amazon, Google and Facebook — more influential. Our data has become big business. But are these corporations out of control? Experts have long watched as corporations like Apple and Amazon flout antitrust laws, while receiving special treatment: When it comes to wages, taxes and laws, these corporations seem to rewrite the rules as they go. Many critics consider Facebook and Google's systematic data exploitation a violation of our core democratic principals. Moreover, the line between the state and mega-corporations is growing even foggier. Some states believe there is simply no way around these giants. Corporate power seems like it is here to stay. Market driven surveillance undermines our sovereignty and thus the very foundation of Western democracies. There is a storm brewing both in the U.S. and Europe. But the corporations are ready for it. Will they continue on this dangerous trajectory, or is there some chance we can still rein them in?
The Silent Summer: Why Are Insects Dying? (Christoph Würzburger, 2019, 43 min, also part of the Animal-Human Relations Program!)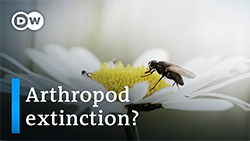 Insects are dying out and scientists and environmentalists are sounding the alarm. Our film team meets entomologists, farmers, scientists, chemical companies and politicians in a bid to lay bare the causes of insect mortality. Insects aren't really likeable. They sting, bite, transmit diseases and frighten children. But, on the other hand, they are also fascinating: 480 million years ago, insects were the first animals to learn to fly, and they took over the Earth. Even now, they are fundamental to life on Earth, and are at the beginning of the food chain on which all human beings are ultimately dependent. But insect numbers worldwide are dropping, creating a rupture of the food chain. Environmentalists and scientists are now extremely worried. Landscape ecology professor Alexandra-Maria Klein from Freiburg, for example, has been researching the effects of human interventions in natural environments for decades and has launched an experiment in a fruit plantation on Lake Constance: What happens when insects disappear? An ominous silence is settling on places that were once humming and buzzing. Why are the insects dying? Author Christoph Würzburger takes a journey into the fascinating world of insects and meets entomologists, farmers, scientists, chemical companies and politicians in a search for the causes of insect mortality.
Thailand: Holiday Paradise in Danger (Dir. Johannes Höflich and Jo Angerer, 2019, 43 min)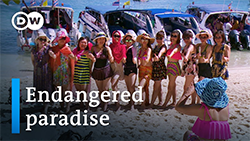 Plastic garbage and the death of the coral reefs show the downside of mass tourism in Thailand, which hosted 36 million visitors in 2018. The documentary looks at the effects on tourist resorts above and below water. Ten years ago there were 20 million fewer tourists. Today's mass tourism has both social and ecological consequences. Most of the Thailand's popular tourist resorts discharge untreated sewage into the sea, and plastic waste ends up in the water. This is killing off the fragile coral reefs along the coast. The countless hotels and restaurants mainly serve fresh fish, so fishing boats are using giant trawl nets, which are also destroying the coral. The internationally renowned marine ecologist Thon Thamrongnawasawa from the University of Bangkok says 77 percent of Thailand's coral reefs have been severely damaged. Meanwhile, the locals in popular tourist resorts hardly benefit from the huge numbers of holidaymakers at all. They work for the minimum wage and are often pushed out by guest workers from neighboring Myanmar, who are willing to work for even less money. Small local restaurants lose out when the big tour operators take their guests on all-inclusive excursions. The filmmakers first visited Thailand a few years ago, shooting enchanting footage of the still intact underwater world in many places. Now they are back there again to look at the consequences of unrestricted tourism – both above and below the waterline.
Tomatoes and Greed: The Exodus of Ghana's Farmers (2020, 53 min, also part of the Africa in Focus Program!)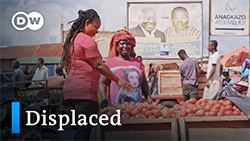 What do tomatoes have to do with mass migration? Tomatoes are a poker chip in global trade policies. Subsidized products from the EU, China and elsewhere are sold at dumping prices, destroying markets and livelihoods in Africa in the process. Edward still harvests tomatoes. But he is no longer on his own fields in Ghana. He now works on plantations in southern Italy under precarious conditions. The tomatoes he harvests are processed, canned and shipped abroad – including to Ghana, where they compete with local products. The flood of cheap imports from China, the US and the EU has driven Ghana's tomato industry to ruin. Desperate farmers find themselves having to seek work elsewhere, including in Europe. For many, the only route available is a dangerous journey through the desert and across the Mediterranean. Ghana is a nation at peace, a democracy with free elections and economic growth. Nonetheless, tomato farmer Benedicta is only able to make ends meet because her husband regularly sends her money from his earnings in Italy. A former tomato factory in Pwalugu, Ghana, illustrates the predicament. This factory once helped secure the livelihood of tomato farmers across the region. Today it lies empty, guarded by Vincent, a former employee who hopes to keep it from falling into ruin. In the surrounding region, the market for tomatoes has collapsed and most farmers are no longer growing what could easily be Ghana's 'red gold'. An agricultural advisor is trying to help local tomato farmers, but has little by way of hope to offer. Conditions like this are what drive local farmers to cut their losses and head for Europe. Once in Italy, migrants from Ghana and other African countries are forced to live in desperate conditions near the plantations. They work as day laborers for extremely low wages, helping to grow the very tomatoes that are costing people back home their work and livelihoods. These days, canned tomatoes from China, Italy and Spain are available for purchase on the market of Accra. Some may call this free trade. But economist Kwabena Otoo says free trade should open doors; not destroy people's lives. Every two seconds, a person is forced to flee their home. Today, more than 70 million people have been displaced worldwide. The DW documentary series 'Displaced' sheds light on the causes of this crisis and traces how wealthy industrialized countries are contributing to the exodus from the Global South.
Troubled Waters: British Fisherman and Brexit (Sebastian Bellwinkel, 2022, 28 min)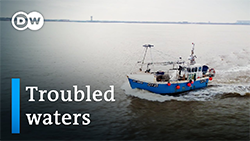 More than two years after Brexit, British fishermen are angry. They were promised more control over fishing rights in British waters, but what they've gotten is reduced income. Many of them voted Leave, but now they feel they've been let down. The fishing industry overwhelmingly supported Brexit. Darren Kenyon is a fisherman from Grimsby in North East England. He believed in the government's Brexit promises – including more control over fishing rights in British waters — and voted Leave. But two and a half years after Brexit, he feels betrayed by Prime Minister Boris Johnson. Kenyon's income is lower than it used to be and there's more red tape than ever. Fishermen aren't the only ones in Humberside who regret voting Leave. It's only now that people here realize how much the region benefited in recent decades from EU subsidies. Nearly 70% of them voted for Brexit, even though the region is part of what's known as the Red Wall, Labour's heartlands. These days, locals feel they've been let down. "I almost feel embarrassed that I voted out," says one man who owns a fish-and-chips shop. "I wish I could turn back the clock." The economic situation in North East England has been in decline since the 1990s. EU fishing quotas hit the region hard. In December 2019, these local frustrations were seized upon and exploited by Boris Johnson during his election campaign. Just days before Britain went to the polls, Boris Johnson visited the fish market in Grimsby and promised the industry hundreds of thousands of tonnes of extra catch, more regulatory autonomy and better access to waters. But his government has delivered on none of these promises. Fishermen, fishmongers and suppliers all feel betrayed. For now, at least, there's still a hip-hop project in Hull that keeps young people off the streets. It used to be paid for by the EU. It's lost that funding now, and project leader Steve Arnott knows better than to expect any help from London.
Waterworld: Living with Climate Change (2020, 43 min)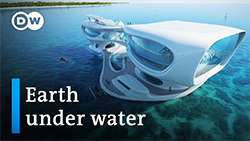 Climate change and rising sea levels mean the island nation of Kiribati in the South Pacific is at risk of disappearing into the sea. But the island's inhabitants aren't giving up. They are doing what they can to save their island from inundation. Can COP23 help make a difference? UN estimates indicate that Kiribati could disappear in just 30 or 40 years. That's because the average elevation is less than two meters above sea level. And some of the knock-on effects of climate change have made the situation more difficult. Kiribati can hardly be surpassed in terms of charm and natural beauty. There are 33 atolls and one reef island – spread out over an area of 3.5 million square kilometers. All have white, sandy beaches and blue lagoons. Kiribati is the world's largest state that consists exclusively of atolls. A local resident named Kaboua points to the empty, barren land around him and says, "There used to be a large village here with 70 families." But these days, this land is only accessible at low tide. At high tide, it's all under water. Kaboua says that sea levels are rising all the time, and swallowing up the land. That's why many people here build walls made of stone and driftwood, or sand or rubbish. But these barriers won't stand up to the increasing number of storm surges. Others are trying to protect against coastal erosion by planting mangrove shrubs or small trees. But another local resident, Vasiti Tebamare, remains optimistic. She works for KiriCAN, an environmental organization. Vasiti says: "The industrialized countries — the United States, China, and Europe — use fossil fuels for their own ends. But what about us?" Kiribati's government has even bought land on an island in Fiji, so it can evacuate its people in an emergency. But Vasiti and most of the other residents don't want to leave.
What Happens When Our Water Dries Up? (2022, 43 min)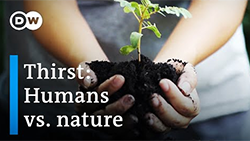 Climate change is causing rising temperatures, extreme weather events and more and more drought. And, in this changing reality, everyone needs more water. Humans are competing with the natural world for water. What does this mean for biodiversity?Fewer and fewer countries still have an abundance of water. The climate crisis, overpopulation and overexploitation are the root of this global problem. And, in a warming world, everyone is using more water: people, agriculture and industry. In Germany, streams and ponds are disappearing, forests and soils are drying out. What does this mean for biodiversity? And how do people cope with drought in countries that have even less water — for example, in the USA or Mexico? What happens when our water dries up? This is a three-part documentary series.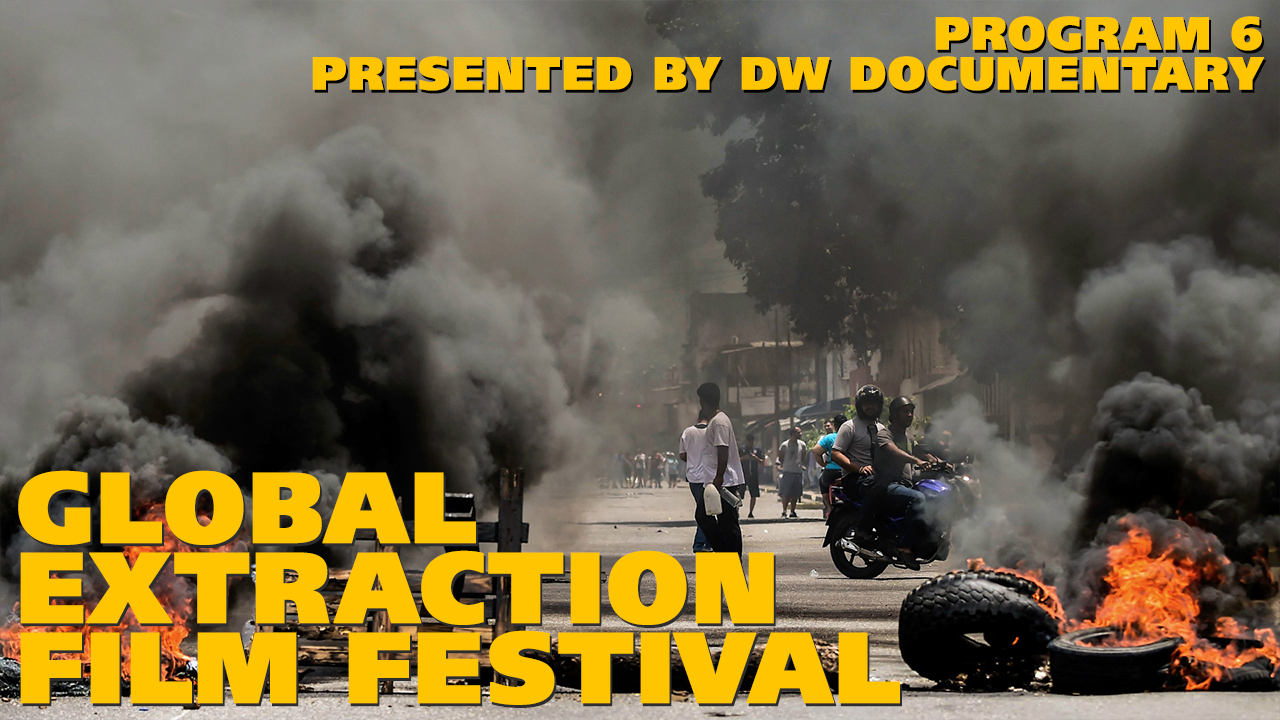 <