GEFF2020: Fly Me To The Moon (World Premiere)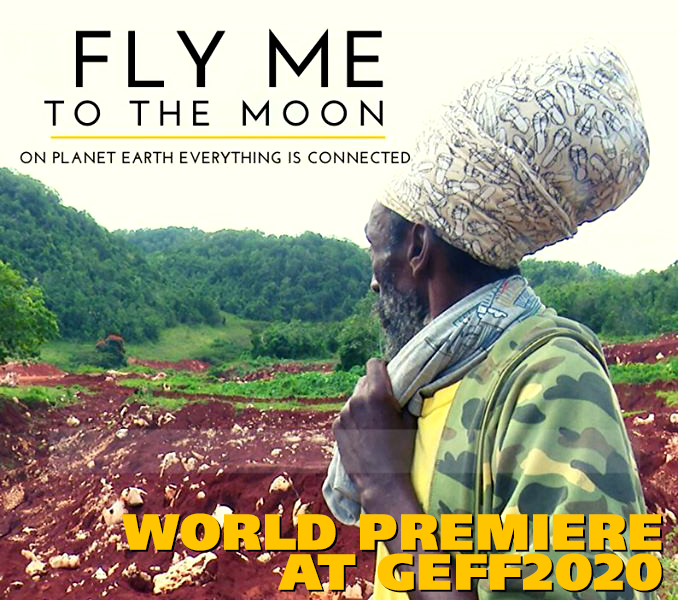 When renting Fly Me To The Moon on Vimeo on Demand during the festival, use promo code 'GEFF2020' and you will get it for free for 48 hours! If you experience any problems, please send an email to [email protected].
From 16-21 July, 2020, Jamaican environmental filmmaker Esther Figueroa, in collaboration with Caribbean Creativity, hosts the 1st Global Extraction Film Festival, showing a free online selection of 100+ feature documentaries and urgent shorts to reflect on the destructive impacts of hundreds of years of extractive industries on Planet Earth. The world premiere of Figueroa's Fly Me to the Moon (2019) is also part of this festival! Fly Me To The Moon is a feature documentary that takes us on a journey into the unexpected ways we are all connected on Planet Earth, by following aluminum – the metal of modernity – around the world and into space. We travel for over one hundred years, visiting places as far flung as the Moon, Jamaica, India, Suriname, Canada, Cuba, Japan, Hungary, Iceland, Australia, Vietnam, the United States of America, encountering along the way human triumphs, technological innovations, multiple wars, societal upheavals, environmental devastation. And in the urgent here and now of the climate crisis, the film challenges us to to think about the consequences of our consumption, to reimagine the ways in which we live, and to change our material culture and political economy that is destroying the planet we all depend on.
Esther Figueroa is a Jamaican independent film maker, writer, educator and linguist with over thirty five years of media productions including television programming, documentaries, educational videos, multimedia and feature film. Her activist film making gives voice to those outside of mainstream media and focuses on the perpetuation of local and indigenous knowledge and cultures, the environment, social injustice, and community empowerment. Figueroa's films are screened and televised all over the world and taught at numerous universities. They include Jamaica for Sale (2009), the award-winning feature documentary about tourism and unsustainable development. Her environmental novel Limbo (2013), was a finalist in the 2014 National Indie Excellence Awards for Multi-cultural Fiction.
When renting Fly Me To The Moon on Vimeo on Demand during the festival, use promo code 'GEFF2020' and you will get it for free for 48 hours!
For renting Fly Me To The Moon for free: https://vimeo.com/ondemand/flymetothemoon
For the GEFF2020 Official Selection: caribbeancreativity.nl/events/global-extraction-film-festival-1/
For the GEFF2020 Urgent Shorts: caribbeancreativity.nl/events/global-extraction-film-festival-2/
For the GEFF2020 Facebook Event: facebook.com/events/1580671302109638/
SYNOPSIS FLY ME TO THE MOON (2019)
2019 is the 50th anniversary of the first moon landing. FLY ME TO THE MOON uses the moon landing as a trope of modernity and "greatness", to make us think about the earth from space, the way astronauts do, so as to understand the connectivity of everything, and to care about the planet we live on. To also think about where the everyday materials we consume come from, and to appreciate how our fast, mobile, modern lifestyles are based on the intense mining of minerals that took the earth millions of years to slowly produce; industrial processes which degrade the natural environment we all depend on and adversely impact the lives of millions of people.
The electricity grid, the buildings we live and work in, the satellites and gadgets we use to communicate, the way people and goods move from place to place, the power, speed, mobility and conveniences that we take for granted, from the most common soda cans and chewing gum wrappers, to hydro-electric dams, fast food franchises, skyscrapers, automobiles, airplanes, smart phones and nano technology, are all made possible by aluminum, the material that underpins our material culture and our ideas of what it means to be modern.
But what is the life cycle of aluminum and where does it come from? Aluminum, the world's most abundant metal, is the world's most widely used non-ferrous metal. It is lightweight, durable, malleable, non corrosive and  chemically reactive. Aluminum is essential to warfare and is therefore considered a strategic metal and stock piled by governments who fear its scarcity. It is one of the most important materials of modernity, innovating the transmission of electricity; land, sea and air transportation; explosives, munitions and warfare; energy extraction including hydraulic fracturing, design, architecture and construction; domestic appliances, cosmetics and pharmaceuticals, mass consumption and the movement of goods and services that we take for granted. Aluminum is also embedded into our imagination of what it means to be modern – a world of skyscrapers, space exploration, fast cars, fast food, and information available at the touch of a smart phone or click of a keyboard.
Aluminum in it's various forms and products is the final stage in an industrial process that begins with the mining of bauxite, the principal ore of aluminum. Bauxite is strip mined, with the removal of all ground cover including trees, plants and soil. The bauxite is processed into alumina which is then smelted into aluminum. Bauxite mining, alumina processing and aluminum smelting are highly destructive to the natural environment, dislocate and fracture primarily rural, economically vulnerable, and indigenous communities, and the processing of bauxite into aluminum requires enormous amounts of energy (the preferred industry choice is electricity produced through massive dams), pollute the air, soil and water and create toxic by products that remain for generations. The aluminum industry is intrinsically global, with bauxite extraction for example in Australia, Guinea, Brazil, Jamaica, Guyana, Indonesia, Vietnam, India, and smelting in Canada, Australia, USA, China, Russia, Dubai, India, Iceland, Norway.
Bauxite ore is usually located in tropical often remote places long considered peripheral to the centers of world power. Fly Me To The Moon queries received notions of "greatness", as to who matters and who doesn't, reconfiguring the complex web of global economic power by centering modernity in the tropical red soil of the Caribbean and South America where bauxite has been mined for over one hundred years. The film foregrounds indigenous and rural peoples across the globe whose lands, forests and rivers have been taken from them by the aluminum industry, replaced with barren, toxic,  landscapes that rupture their self sufficiency and pervert their relationship to nature.
Fly Me To The Moon is based on 13 years of research, numerous interviews, and on-the-ground activism. It includes original interviews with Chris Ferguson, Commander of Space Shuttle Atlantis; experts Prof. Mimi Sheller, author of "Aluminum Dreams"; Dr. Carlton E. Davis, author of "Jamaica in the Aluminum Industry"; Dr. Patrece Charles, author of a dissertation on the health effects of the industry, Ritwick Dutta, international environmental lawyer, Beverly Manley-Duncan, the once first-lady of Jamaica, and a reading by acclaimed writer Olive Senior.
The film engages with communities affected by the aluminum industry in Jamaica, Suriname, Canada and India and documents the decades long movement to protect Jamaica's Cockpit Country from bauxite mining, culminating in Prime Minister Andrew Holness declaring a part of Cockpit Country a Protected Area. With intimate footage of bauxite mining and community activism, over an hour of riveting archival footage including the iconic moon landing, breath taking scenery of Planet Earth, the aluminum industry portrayed by its own media productions, excerpts from powerful independent documentaries, and coverage of contemporary events by news outlets, Fly Me To The Moon covers a century of socio-political history that includes United States Presidents Donald Trump, John F. Kennedy, and Dwight D. Eisenhower, Jamaican Prime Ministers Michael Manley and Andrew Holness, and radical social justice activists Martin Luther King Jr., Muhammad Ali, Stokely Carmichael, and Arundhati Roy. Fly Me To The Moon weaves a complex, multi-layered story that will surprise, move and educate the viewer.