Global Extraction Film Festival: Focus on Global Extraction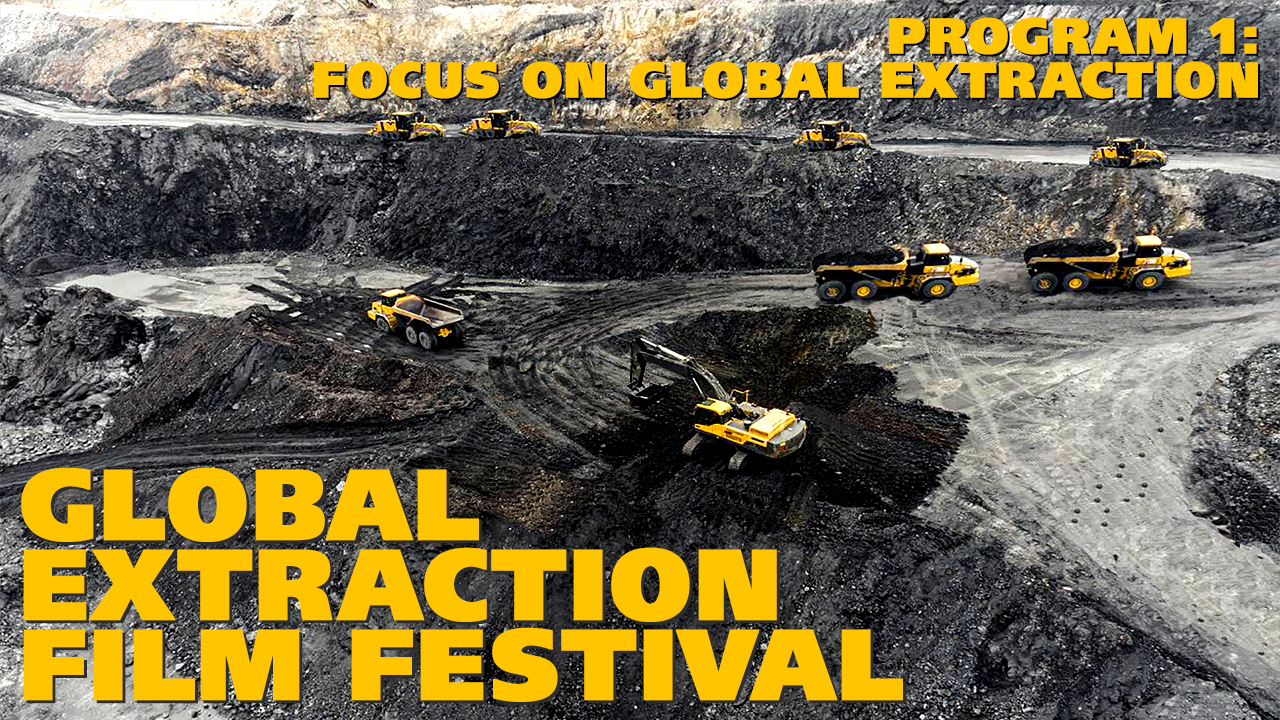 Streaming Online | July 16-20, 2020 | #FocusOnGlobalExtraction | #GlobalExtractionAction
From 16-20 July 2020, Jamaican environmental filmmaker Esther Figueroa (Vagabond Media), in collaboration with Caribbean Creativity, is hosting a free online film festival to reflect on the destructive impacts of hundreds of years of extractive industries on Planet Earth. 
FOCUS ON GLOBAL EXTRACTION * GEFF PROGRAM 1
Program 1 features a selection of 25 documentaries focused on all the regions of the world, with a wide range of topics demonstrating the all-encompassing and intersectional nature of global extraction and exploitation. From the military industrial complex and colonial occupation, to mining, tourism, industrial agriculture, factory farms, climate crisis, plastics, waste, forests, soil, forced labor, fossil fuels, and smart-technology.
Check out URGENT SHORTS * GEFF PROGRAM 2 here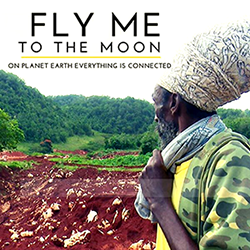 FLY ME TO THE MOON (Esther Figueroa, 2019, 114 mins, World Premiere!)
Fly Me To The Moon is a feature documentary that takes us on a journey into the unexpected ways we are all connected on Planet Earth, by following aluminum – the metal of modernity – around the world and into space. The film challenges us to to think about the consequences of our consumption, to reimagine the ways in which we live, and to change our material culture and political economy that is destroying the planet we all depend on.
Watch
(use promo code 'GEFF2020' to get it for free during the festival!)
This Land is a feature documentary that reflects national challenges in three areas of KwaZulu-Natal. The film follows the people of Makhasaneni in pristine hills near Melmoth in their battle against an Indian company's secretive collusion with politically connected elites to develop a vast opencast iron-ore mine on the land they have farmed for generations.This Land shows that mining is not the only threat as people from Babanango relate how their lifestyle is being destroyed as the grazing lands around them are turned into a game reserve.
Watch
(use promo code 'GEFF2020' to get it for free during the festival!)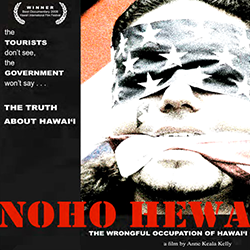 NOHO HEWA: THE WRONGFUL OCCUPATION OF HAWAI'I (Anne Keala Kelly, 2009, 82 mins) – use password 'EndColonization' to access the film!
Noho Hewa: The Wrongful Occupation of Hawai'i, is a feature documentary about Native Hawaiian resistance to the American occupation of their country and how militarism, tourism and desecration of Hawaiian burials and sacred sites have completely displaced the Indigenous population and created the largest military command on earth.
Watch
(Use password 'EndColonization' to access the film during the festival!)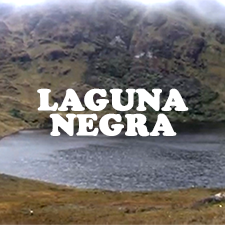 LAGUNA NEGRA (Michael Watts, 2009, 24mins)
Laguna Negra is a film uncovering the abuses suffered by a Huancabamba Peruvian farming community for opposing a large copper mining project. It explores the core values of the campesino community and the destructive outcome of imposing a capital intensive model of development on a society based on traditional values.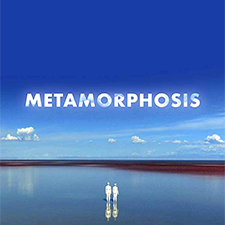 METAMORPHOSIS (Nova Ami and Velcrow Ripper, 2018, 85 mins)
A poem for the planet, Nova Ami and Velcrow Ripper's feature documentary Metamorphosis takes the pulse of our Earth and bears witness to a moment of profound change: the loss of one world, and the birth of another. Metamorphosis captures the true scale of the global environmental crisis. Forest fires consume communities, species vanish, and entire ecosystems collapse. Economic growth, tied to increased speed of resource extraction, has created a machine with the capacity to destroy all life. But this crisis is also an opportunity for transformation. Through a tidal flow of stunning images, Metamorphosis carves a path from the present to the future, and offers a bold new vision for humanity and the world.
Watch
(use promo code 'GEFF2020' to get it for free during the festival!)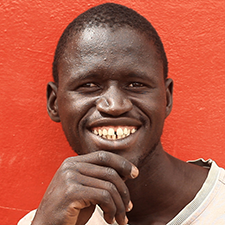 WELCOME TO THE SMILING COAST (Bas Ackermann, 2016, 72mins)
Welcome to the Smiling Coast is a feature documentary that captures the daily lives of 15 youngsters moving within the informal economy of the Gambian tourism industry of sun, safari and sex. Capturing their struggles, hopes and dreams, this film puts a human and positive face on the tourism workers behind the 'glitter' of the Smiling Coast. With the lure of a better future just around the corner, do they try their luck abroad or find their peace at home?
Watch
(use promo code 'GEFF2020' to get it for free during the festival!)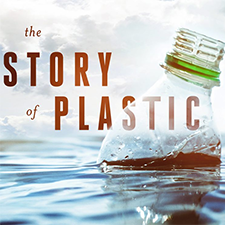 THE STORY OF PLASTIC (Deia Schlosberg, 2019, 95 mins)
The Story of Plastic is a feature documentary that takes a sweeping look at the man-made crisis of plastic pollution and the worldwide effect it has on the health of our planet and the people who inhabit it. The film distills a complex problem that is increasingly affecting the planet's and its residents' well-being.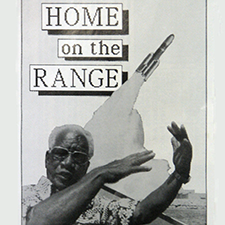 HOME ON THE RANGE (Adam Jonas Horowitz, 1989, 60 mins)
In 1947, the population of Kwajalein Atoll in the Marshall Islands of the South Pacific, were forced by the US government to move to the tiny island of Ebeye, which rapidly became a ghetto. Famous for their long distance navigational skills, they had to give up their traditional way of life and became dependent on the US government for food and everything else. Home On The Range, tells the story of the US military occupation of the islands, and the attempts by Chief Handel Dribo and the people of Ebeye to return to their islands and way of life. The film exposes the horrors forced upon the islanders, their brave attempt to stop the decades long missile 'testing', and to gain control again of their land.
Watch
(use promo code 'GEFF2020' to get it for free during the festival!)
NUCLEAR SAVAGE (Adam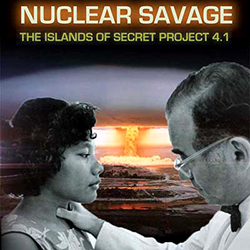 Jonas Horowitz, 2011, 87 mins)
Adam Jonas Horowitz shot his first film in the Marshall Islands in 1986, and was shocked by what he found there: radioactive coconuts, leaking nuclear waste repositories, and densely populated slums were all the direct result of 67 Cold War U.S. nuclear bomb tests that vaporized islands and devastated entire populations. 20 years later, Adam returned to these islands to make this award winning shocking political and cultural feature documentary exposé.
Watch
(use promo code 'GEFF2020' to get it for free during the festival!)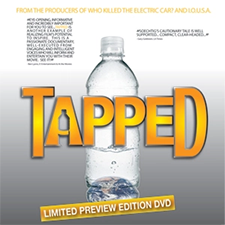 TAPPED Stephanie Soechtig & Jason Lindsey, 2009, 76 mins)
Tapped is a feature documentary that tells the truth about the bottled water industry. The film examines the role of the bottled water industry and its effects on our health, climate change, pollution, and our reliance on oil.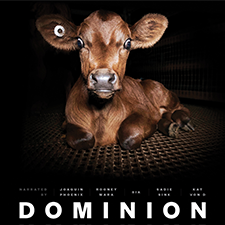 DOMINION (Chris Delforce, 2018, 125 mins)
Dominion is a feature documentary that uses drones, hidden and handheld cameras to expose the dark underbelly of modern animal agriculture, questioning the morality and validity of humankind's dominion over the animal kingdom. While mainly focusing on animals used for food, it also explores other ways animals are exploited and abused by humans, including clothing, entertainment and research.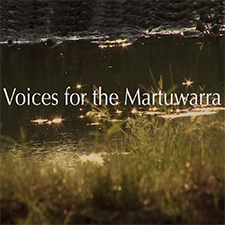 VOICES FOR THE MARTUWARRA (River Of Life; Ngikalikarra Media; Martuwarra Fitzroy River Council; Madjulla Inc, 2020, 39mins)
Voices for the Martuwarra is a collaborative documentary featuring interviews with members of the Martuwarra Fitzroy River (MFR) Council, scientists, environmentalists, and researchers. The MFR Council was established in 2018 to give a political voice to Traditional Owners of the Fitzroy River Region amidst extensive development plans earmarked for the Kimberley in the mining and agricultural sectors. Giving voice to many Kimberley Traditional Owners, the film depicts the profound and complex interrelatedness between culture, Country, Living Waters and people.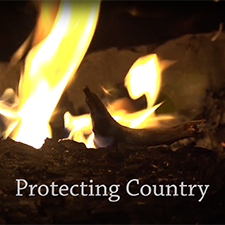 PROTECTING COUNTRY (Adnyamathanha People & Ngikalikarra Media, 2018, 39 mins)
Protecting Country is an independently produced film bringing the voices of the contemporary Adnyamathanha, Gurindji, Tanganekald, Yankunytjatjara Anangu, Mirning, Narungga Aboriginal Australian people forward who are united in their stand AGAINST the present and planned uranium mining and nuclear dump activities in South Australia.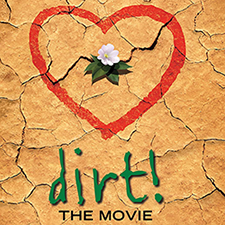 DIRT! THE MOVIE (Bill Benenson & Gene Rosow, 2009, 86 mins)
Four billion years of evolution created dirt as the living source of all life on Earth including humans. Dirt has given us food, shelter, fuel, medicine, ceramics, flowers, cosmetics and color –everything needed for our survival. We still depend on dirt, but now we abuse and ignore it. We are destroying our last natural resource with our agriculture, our mining, and our paving over the planet for cities. We turned dirt into something 'dirty.' In doing so, we transform the skin of the earth into a hellish and dangerous landscape The only remedy for disconnecting people from the natural world is connecting them to it again.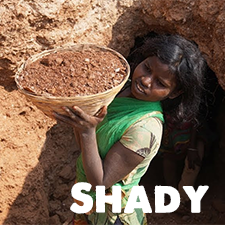 SHADY: THE DARK SECRET BEHIND YOUR FAVORITE MAKEUP PRODUCTS (Refinery 29, 2019, 20 mins)
On this episode of Refinery 29's series Shady, host Lexy Lebsack explores the unethically sourced ingredient that's in almost all makeup products. She travels to the mica mines in India to uncover the truth about child labor rings behind this mineral. Watch Shady to see what really goes into making your makeup.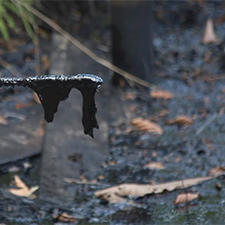 A 25 YEAR LEGAL BATTLE OVER OIL POLLUTION IN ECUADOR'S AMAZON RAINFOREST (OGTN America, 2019, 14 mins)
Oil drilling in Ecuador has caused long-term environmental damage. Now, frustrated indigenous communities are cleaning up the contamination themselves. A quarter of a century after Ecuador filed a lawsuit against oil giant Chevron for allegedly dumping 18 billion gallons of toxic wastewater and crude oil into the Amazon rainforest, the battle for compensation goes on. The pollution, disease and poverty caused by the calamity have made it one of South America's worst environmental disasters. Farmers and indigenous people have formed an alliance to devise their own solutions to resolve the contamination crisis.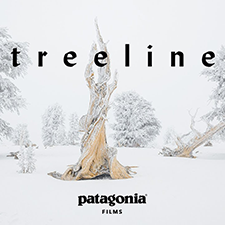 TREELINE – THE SECRET LIFE OF TREES (Patagonia, 2018, 40 mins)
When we travel in winter through the forest, we are passing through the trees' homes and communities, weaving ourselves into their lives and ecosystems, but we often tell our stories and not theirs. What about the intersection of us and the trees? Is it enough just to recognize that they're there? Does this gesture make us a symbiont of the woody tribe? A tree can't vocalize or write itself into our records: We must assign them importance, even though they always stand taller, grander, and very often, longer than us.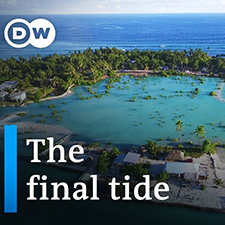 THE FINAL TIDE: KIRIBATI, A DROWING PARADISE IN THE SOUTH PACIFIC (Deutsche Wella Documentary, 2017, 43 mins)
Climate change and rising sea levels mean the island nation of Kiribati in the South Pacific is at risk of disappearing into the sea. But the island's inhabitants aren't giving up. They are doing what they can to save their island from inundation. Vasiti Tebamare says: "The industrialized countries – the United States, China, and Europe – use fossil fuels for their own ends. But what about us?" Kiribati's government has even bought land on an island in Fiji, so it can evacuate its people in an emergency. But Vasiti and most of the other residents don't want to leave.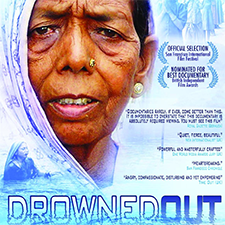 DROWNED OUT (Franny Armstrong, 2002, 75 mins)
Drowned Out is a feature documentary that tells the story of an Indian family who decide to stay at home and drown rather than make way for the Narmada Dam. With just a few weeks until the village disappears underwater, Arundhati Roy joins the family's fight against the dam. She asks the difficult questions. Will the water go to poor farmers or to rich industrialists? Why are children dying in the resettlement sites? What happened to the 16 million people displaced by fifty years of dam building? Why should we care? This film follows the villagers through hunger strikes, rallies, police brutality and a six year Supreme Court case. It stays with them as the dam fills and the river starts to rise…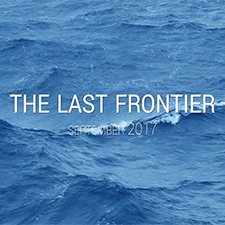 THE LAST FRONTIER (Pacific Network On Globalization, 2017, 7.5 mins)
The Last Frontier is a documentary series focusing on experimental seabed mining, an imminent venture in the Pacific. It presents the situation in Papua New Guinea (PNG). Despite the experimental nature and a dearth of knowledge about hydrothermal vents and deep sea ecosystems, Nautilus Minerals Inc. is already prospecting PNG's Bismarck Sea with an aim to begin mining as early as 2019. This film highlights a general failure by authorities to incorporate sufficient environmental protections, as well as the norm of free, prior, and informed consent (FPIC) for indigenous peoples of the Bismarck Sea.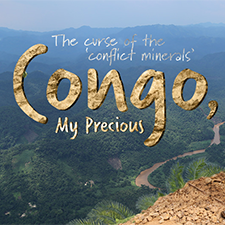 CONGO MY PRECIOUS (Anastasia Trofimova, 2017, 52 mins)
The Democratic Republic of Congo is one of the world's most resource-rich countries. A wide range of rare minerals including Coltan can be found here in abundance, all commanding high prices in world commodity markets, but the DRC still remains one of the poorest countries in the world. Bernard Kalume Buleri, fixer and musician, born in the year of his country's independence, has lived through war and seen his homeland torn apart by violent looting and greed. His story is a damning testament, illustrating how nature's bounty, instead of being a blessing, becomes a deadly curse.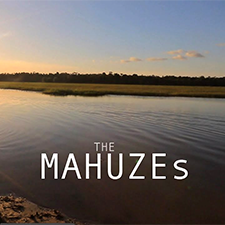 THE MAHUZES (Dandhy Laksono & Suparta Arz, 2016, 85 mins)
The Mahuzes is a feature documentary about conflicts between indigenous people and agribusiness companies in Merauke. The films follows one clan of Marind people in Muting village, where oil palm companies have started clearing land in the last few years on five massive plantations. The filmmakers also visit the site of the new rice development, revealing that once again the central government is ordering a mega project without due consideration of the local social and environmental conditions.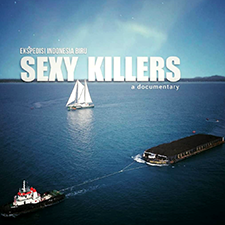 SEXY KILLERS (Dandhy Laksono & Suparta Arz, 2019, 89 mins)
Sexy Killers is a feature documentary about the coal mining industry and its relations with the Indonesian political establishment. One of the 'Ekspedisi Indonesia Biru',a one-year road-trip on motorbikes by filmmakers Dandhy Laksono and Ucok Suparta, visiting diverse communities around the archipelago, often communities in struggle.Sexy Killers shows how mining companies, backed by the local and national governments, often seize people's lands and raze forests in their pursuit of more coal.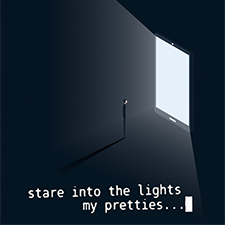 STARE INTO THE LIGHTS MY PRETTIES (Jordan Brown, 2017, 129 mins)
Stare Into The Lights My Pretties, is a feature documentary about screen culture and its implications. While the world burns, where are we? We live in a world of screens. The average adult spends the majority of their waking hours in front of some sort of screen or device. We're enthralled, we're addicted to these machines. How did we get here? Who benefits? What are the cumulative impacts on people, society and the environment? What may come next if this culture is left unchecked, to its end trajectory, and is that what we want?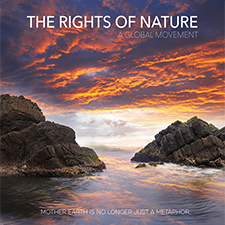 THE RIGHTS OF NATURE: A GLOBAL MOVEMENT (Isaac Goeckeritz, 2020, 53 mins)
The Western view and legal system tend to view nature as property, and as a resource from which wealth is extracted. But for millennia indigenous communities have viewed themselves as part of nature. As pressures on ecosystems mount and as conventional laws seem increasingly inadequate to address environmental degradation, people around the world are turning to a new legal strategy known as Rights of Nature. This feature documentary explores the successes and challenges in creating new legal structures that have the potential to restore ecosystems while achieving a balance between humans and nature.