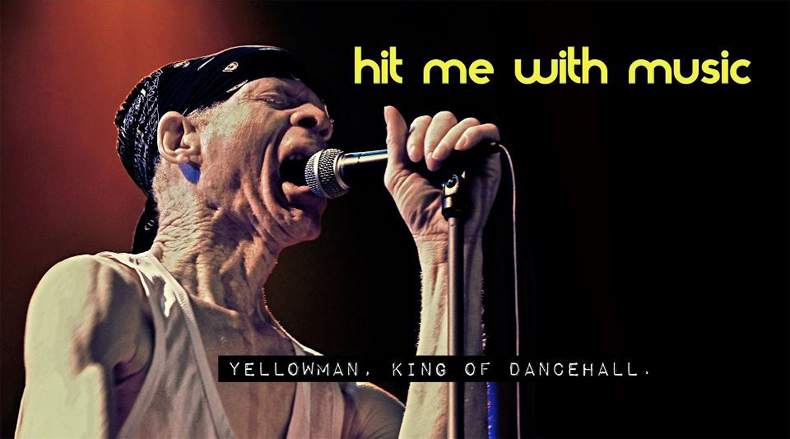 Miquel Galofré's Hit Me With Music is a documentary about Jamaica's dancehall scene and especially of one of its biggest names, Yellowman. The documentary is jam-packed with interviews from dancers and street kids to the scene's biggest stars. Including Mavado, Beenie Man, Bounty Killer, Elephant Man, Bunny Lee, Black Scorpio, Jammys, Tony Rebel, Queen Ifrica, Bongo Herman, Mighty Crown and, of course, Yellowman himself. Their interviews bring insight into dancehall songs, their controversial lyrics, and how a musical phenomenon, such as dancehall, reflects the lives of the Jamaicans.
Thirty years after Bob Marley's death, dancehall has become Jamaica's prominent musical export. From the Caribbean soundsystems its sound has spread all over the world, even finding a foothold in far-off Helsinki and Joensuu. The documentary's main character Yellowman's reign in the scene started in the 1980s when he drove Jamaica wild with his explicitly sexual lyrics. His success was actually quite surprising as he was born an albino, who are normally discriminated heavily against in Jamaica. However, Yellowman was able to win the hearts of the soundsystem crowd despite his gruesome appearance and skin colour. He has garnered himself a reputation of a supreme performer with his highly physical concerts. His energy, and that of the dancehall scene in general, is beautifully captured by Miquel Galofré in the film that has been awarded multiple times at reggae film festivals.
Caribbean Creativity served as story editor of Hit Me With Music. We also organized the Dutch premiere of the film at the very first edition of Yard Vibes on July 15, 2011. Since 2021, so ten years later, we were able to add the film to our streaming platform YardVibes.
Dir: Miquel Galofré | 2011 | Jamaica/Spain | Documentary
Trailer Hit Me With Music  |  Facebook Hit Me With Music  |  Watch Hit Me With Music