YardVibes: Lee 'Scratch' Perry's Vision of Paradise
Following the sold-out screening in September, Melkweg Cinema, in collaboration with Caribbean Creativity, hosts another exclusive 𝘁𝗿𝗶𝗯𝘂𝘁𝗲 screening of 𝗟𝗲𝗲 '𝗦𝗰𝗿𝗮𝘁𝗰𝗵' 𝗣𝗲𝗿𝗿𝘆's 𝗩𝗶𝘀𝗶𝗼𝗻 𝗼𝗳 𝗣𝗮𝗿𝗮𝗱𝗶𝘀𝗲, the ultimate documentary about his life and vision, on Friday October 8.
𝗬𝗮𝗿𝗱𝗩𝗶𝗯𝗲𝘀: 𝗟𝗲𝗲 '𝗦𝗰𝗿𝗮𝘁𝗰𝗵' 𝗣𝗲𝗿𝗿𝘆'𝘀 𝗩𝗶𝘀𝗶𝗼𝗻 𝗼𝗳 𝗣𝗮𝗿𝗮𝗱𝗶𝘀𝗲
Date: Friday October 8, 2021, at 9am
Location: Melkweg Cinema
Title: Vision of Paradise
Director: Volker Schaner
Country: Germany, UK, Switzerland, Jamaica and Ethiopia
Year: 2015
Length: 100 min
Language: Jamaican English
Subtitles: English
More info and tickets: www.melkweg.nl/leeperry (soon available)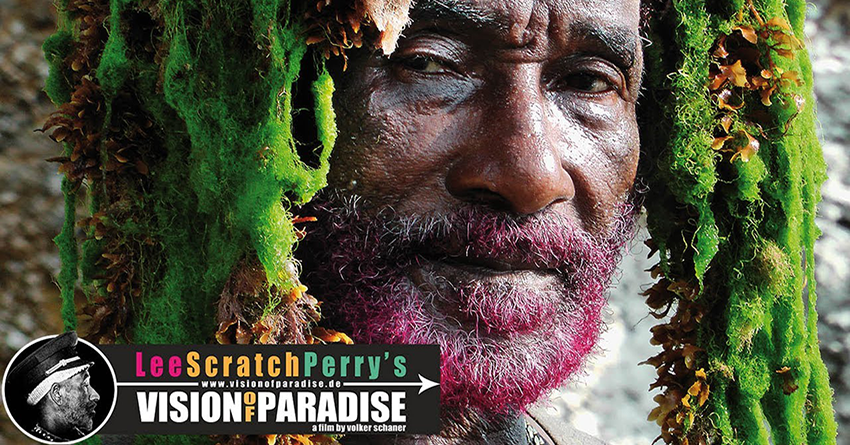 𝗦𝘆𝗻𝗼𝗽𝘀𝗶𝘀 𝗩𝗶𝘀𝗶𝗼𝗻 𝗼𝗳 𝗣𝗮𝗿𝗮𝗱𝗶𝘀𝗲
Vision of Paradise is the ultimate portrait of the recently deceased Jamaican music producer Lee 'Scratch' Perry. German director Volker Schaner followed Perry for 15 years (2000-2015) on his adventurous journey, which took him from Jamaica to Ethiopia, England, Germany and Switzerland. During this period, Voler won the complete trust of the eccentric musician, which has resulted in previously never received access and insight into Perry's unparalleled spiritual world. Vision of Paradise is not a biography, but an epic fairy tale of magical proportions, at times poetic and at times funny. In addition to unique visuals from the founder of the dub genre in an all-star cast of dub and reggae musicians, this documentary consists of fantastic animations inspired by both orthodox church art from Ethiopia and Yellow Submarine from the Beatles.
Lee 'Scratch' Perry is considered one of the greats in reggae. In the late 1950s, he started his music career as a jack-of-all-trades at Studio One, where he later worked as a producer. He worked with just about everyone who matters in reggae history, including Bob Marley, assisted by the band The Upsetters. The total number of productions and albums Perry has collaborated on runs into the hundreds, spanning a huge variety of labels. Many classic projects have come out of his own illustrious studio, The Black Ark, such as his own record 'Roast Fish, Corn Bread And Collieweed', Junior Murvin's 'Police And Thieves', Max Romeo's 'War Ina Babylon' and The Heptones's 'Party Time' . The typical Ark sound was created by stacking tracks on top of each other and using unusual percussion objects, such as broken glass.
Perry's influence on contemporary music is unprecedented. He has recorded with artists such as The Orb, Keith Richards, The Beastie Boys, George Clinton, David Lynch, Andrew WK, Moby, Ari Up of The Slits, Bill Laswell, Tunde Adebimpe of TV On The Radio, Sly Dunbar, Adrian Sherwood, Mad Professor and porn star Sasha Grey. In 2003 Perry won for Jamaican E.T. a Grammy for Best Reggae Album and in 2004 he was included by Rolling Stone Magazine in their list of the 100 Greatest Artists of All Time.