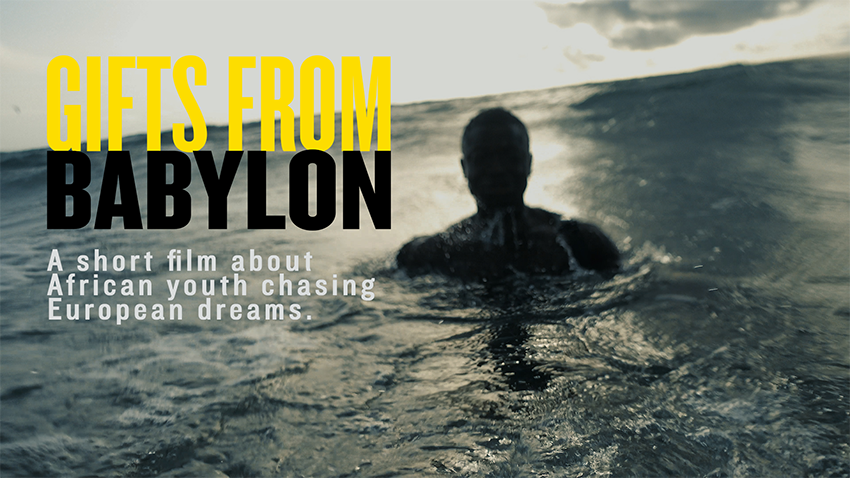 Gifts from Babylon is a 10-minute short film exploring the impact of Africa-EU migration through the lens of a Gambian return-migrant. The film captures the personal and cultural conflicts that arise when Amadou, a young West African, returns to his home country after having lived illegally in the once promised paradise, Europe. Gifts from Babylon shows the return of an African migrant after having lived illegally in Babylon for five years. Babylon is the name that is often used in West Africa when referring to Europe, the idealized destination of many young West Africans when taking the so-called backway, the dangerous and illegal journey to Europe across deserts and high seas. The main character is Amadou, a 28-year old Gambian who took the backway when he was in his early twenties. Back then, he stole money from local gang leader Jimmy to cross the desert by truck and ended up in a smuggler's boat to Europe. Now, five years later he returns to his home country, to reunite with his family and friends. After a harsh life of hustling on the streets of Italy and the Netherlands, Amadou comes back to the Gambia as a changed man – a bluffing man his family and friends can't get along with. On top of that, the debts he left behind have not been forgotten by local gang leader Jimmy. While suffering from intense flashbacks of his Babylon life in Europe, and experiencing the poverty and insecurity of African ghetto life all over again, he wonders what has become of him…
Emiel Martens, CEO of Caribbean Creativity, serves as the producer and story editor of Gifts from Babylon, which is currently raising funds through a crowdfunding campaign at Cinecrowd (October 2017).
Dir: Bas Ackermann and Babucarr Manka | 2018 | The Gambia / The Netherlands | drama | 10-15 min.
Website Gifts from Babylon  | Facebook Gifts from Babylon