Rootical Vibrations (Ed. 9 ft. Dreadlocks Story)
Caribbean Creativity, in collaboration with Each One Teach One, is proud to present the 9th edition of Rootical Vibrations in Kriterion in commemoration of Haile Selassie's coronation. Come and taste Journy's ital vital food, watch Linda Aïnouche's fascinating documentary 'Dreadlocks Story', and enjoy our roots reggae afterparty featuring a live performance by Ras Billyman & Elijah Nichloas and vinyl tunes by DJ Ewa and Empress Messanjah Sound until you drop.
Dreadlocks Story, a new documentary about the hidden links between Jamaican Rastafarians and Indian sadhus, will have its Dutch premiere in film theatre Kriterion at the 9th edition of Rootical Vibrations on Saturday, November 1st. The exclusive screening of the film will be introduced by reggae musician Ras Jorge Lizardo and followed by a (Skype) Q&A with director Linda Aïnouche and reggae afterparty with live performances and DJs.
Dreadlocks Story shows, for the first time, the connections between Rasta culture and Hindu tradition in Jamaica, particularly with regard to the dreadlocks hairstyle that made Rastas known worldwide. The documentary was filmed in four countries (France, India, Jamaica and the United States) and includes interviews with Hélène Lee (author of The First Rasta), Verene Shepherd (author of Maharani's Misery: Narratives of a Passage from India to the Caribbean), Ajai amd Laxcmi Mansingh (authors of Home Away from Home: 150 Years of Indian Presence in Jamaica 1845-1995), Monty and Blade Howell (sons of Leonard Howell), David Hinds (founder and lead singer of Steel Pulse) and many others. Dreadlocks Story documents the shared history of Jamaica and India and offers a new perspective on sensitive issues such as spiritual practices, rituals and forms of expression.
The screening of Dreadlocks Story will be held in celebration and commemoration of the coronation of the last Ethiopian Emperor Haile Selassie on November 2, 1930, an important event for Rastafarians, who still see Selassie as their spiritual leader. The film will be introduced by Cape Verdean reggae musician Ras Jorge Lizardo Oliviera, who will briefly talk about the visit of Selassie to the Netherlands in 1954, when he met Queen Juliana in Rotterdam. After the film there will be a (Skype) Q&A with director Linda Aïnouche and a reggae afterparty with acoustic performances by Ras Billyman and Elijah Nicholas and DJ sets from Ewa and Empress Messenjah Sound. There will also be ital food available from Chef Journy.
ROOTICAL VIBRATIONS (EDITION 9) WITH THE DUTCH PREMIERE OF DREADLOCKS STORY
Date:
November 1, 2014
Time
: 21:00-03:00 hrs
Film:
Dreadlocks Story
(incl introduction by Ras Jorge Lizardo and Q & A with director Linda Aïnouche!)
Music:
Reggae afterparty (with Ras Billyman, Elijah Nicholas, DJ Ewa and Empress Messenjah Sound)
Venue:
Kriterion (Roetersstraat 170, Amsterdam)
Charge:
€9.50 for the film, afterparty = free
Reservations:
020 623 1708 (Kriterion; possible from Monday, October 13)
RSVP
:
www.facebook.com/events/284971525033695/
More info:
www.caribbeancreativity.nl
,
www.rooticalvibrations.nl
,
www.dreadlockstory.com
21:00 Nyabinghi drum session | 21:45 Introduction film| 22:00 Start film | 00:00 Reggae afterparty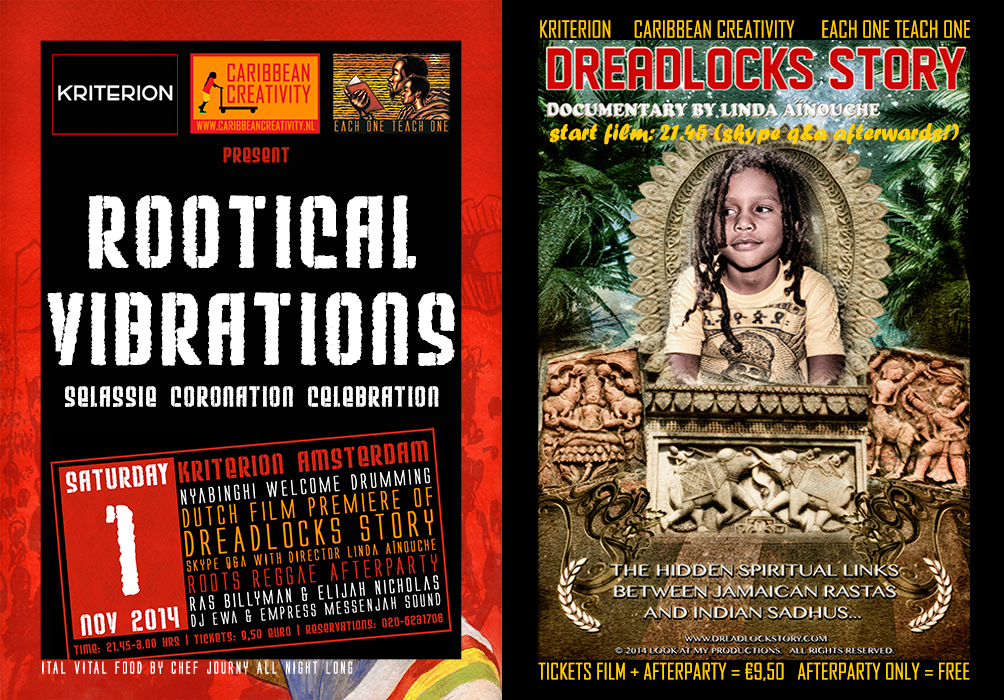 DREADLOCKS STORY – Documentary trailer from Linda Aïnouche on Vimeo.